Can You Make Money In Affiliate Marketing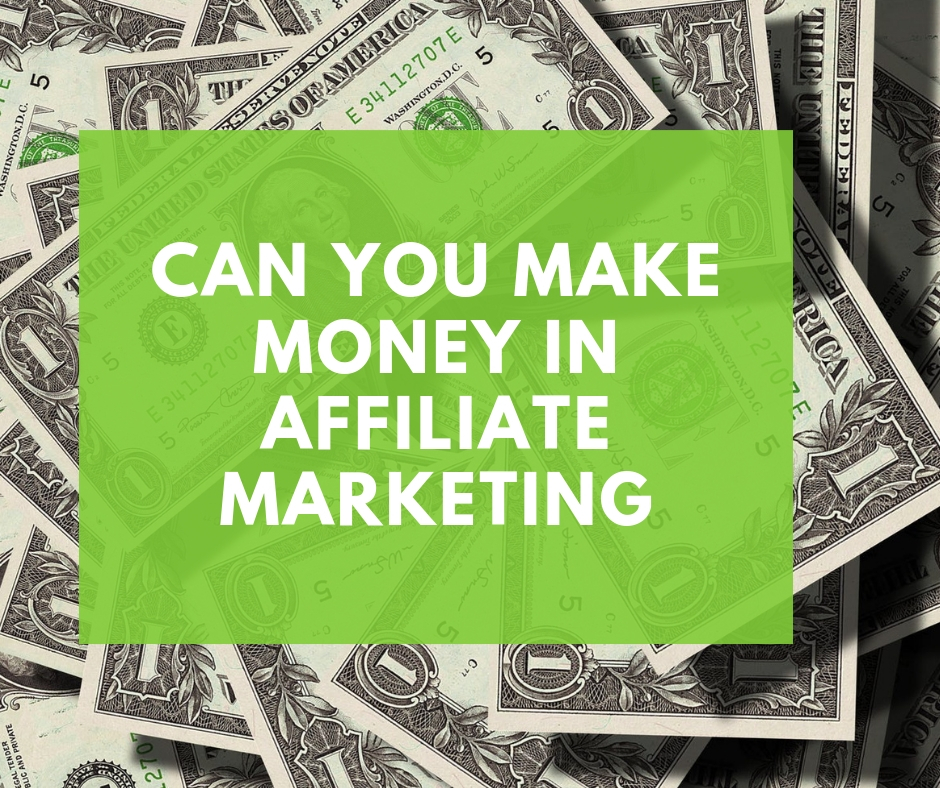 Is it all just a dream or can you really make money in affiliate marketing? The chances are you're reading this because you heard the benefits and so much about the affiliate lifestyle. Making money from home, on your own time, even a passive income, all with only a laptop… Could this be a reality?
The short answer is?yes, and the amount of money in affiliate marketing completely depends on you. That's the beauty of being your own boss, you not only get to call the shots, if your willing to put in the effort there's no limits to the income you can earn.
Naturally, a person who has an affiliate product who takes time to write great content and promote regularly to build an audience, is going to make quite a lot more than the person who neglects these things.
The best affiliates understand that if you put your visitors first and give value you'll easily build trust. As a result that means increased conversions and income for you. Income comes as a by product of giving your best. If you like the idea of creating a business you can be proud of lets look at the basic of affiliate marketing.
---
Start Taking The Affiliate Marketer Training Course For FREE Here!
Basics to Make Money in Affiliate Marketing
After asking yourself ?can you make money in affiliate marketing?? and learning that you can, your next step will be understanding the basics of affiliate marketing and how to take advantage of it.
The basic steps you?ll want to get familiar with includes the following:
1. Find Your Niche
The first step is to pick a niche, part of choosing your niche is prove the answer ?can you make money in affiliate marketing? with this particular topic.?
If you want to be a successful marketer rather than spreading yourself thin promoting many categories become an expert in your field. If you're starting to panic don't it's easier than you think.
With thousands of niches and millions of products you won't be short of ideas. You can promote health products, kitchen gadgets, cosmetics, sports gear, even digital products.
Ideally chose something you are familiar with or something you are interested in that you would be willing to learn more about. When you pick a niche you enjoy and create text around relevant keywords your audience find you organically.? And, you'll be creating work around something you love… that's part of affiliate lifestyle!
2. Research Affiliate Programs
Once you?ve found the niche you would like to focus on, it's time to research affiliate programs that offer products related to your business. Take time to choose products that offer quality and one's you are proud to promote. Each affiliate company will have a marketing agreement setting out their commission rates and other relevant details.
If you have questions about the products your interested you can email the affiliate product managers who are there to help. By spending a little time on research you can ensure you?ve found the best fit for your business and move forward with confidence. Wealthy Affiliate Now Includes Affiliate Merchant Section. Everything for Affiliates All in One Place – Check Out the Wealthy REVIEW or Join Today.
3. Start Building Your Website
Many beginners wonder do you need a website for affiliate marketing, the short answer is yes! Your website is incredibly important it's the foundation for your affiliate marketing business. It's like your store but online, its where your visitors come to read your content, and where they'll make their purchases.
Your website doesn't have to be fancy or complicated, in fact quite the opposite. An effective website is one that is clean, simple site that's easy to navigate that keep your readers focused on why they are there. An outdated, complicated website isn?t one that is going to keep readers coming back to read your content or clicking your affiliate links.
Creating a website is easier than ever, even if your not techie.??Don?t know how to build an affiliate website? Start here!! Wealthy Affiliate
4. Add Quality Content
You could have the most beautiful website, but if you don't add quality content your visitors have no reasons to stay. Content can be created in many forms; written articles, reviews, images, podcasts, video, social media, etc.
Don't worry if your not an expert yet because with a little research you can create well thought out information around the well keywords your visitors are searching for. If you keep in mind why visitors come to your site, you will become a trusted online resource.
5. Build Your Audience
Once your website is built, your affiliate products are chosen and your content created it's time to build your audience.? Now things are getting exciting… its time to promote your website and your products while building your audience.
Getting traffic is often learning experience for most affiliate marketers, but it worth all the effort if you plan to grow your business and make money in affiliate marketing.
The Money In Affiliate Marketing
Affiliate marketing is business you can make as little or as much as you wish. If you dedicate more time and effort into your affiliate marketing you can expect to make a whole lot more money than those who use affiliate marketing part time to earn extra income. It's a business model to create on your own terms and it's ideal to start and earn prior to quitting your 9-5 job. It's up to you.
One thing successful affiliates understand is that Affiliate marketing is a REAL BUSINESS?and just like any other business it should be treated as such.
Follow the steps, take time to learn with the best affiliate platform (read the REVIEW)? and you reap the benefits and can make money in affiliate marketing… in fact the skies the limit. The time is yours… are you ready?
Get Started Today with your Free Membership Here.