How to Be Successful in Affiliate Marketing with 7 Steps Expert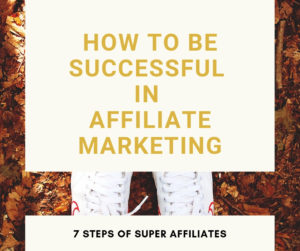 You want the to become an affiliate marketer? Not just a so-so one, you want ?the? affiliates lifestyle.
So, the real question is how to be Successful in Affiliate Marketing, like really successful?
If you?re like most entrepreneurs you have some compelling reasons for starting a business online?
such as, more time so you can have a real life, make money so you never have to worry about the financial stuff, freedom to work from home or anywhere?
So why not do it the right way and be one of the super successful!
In order to reach this stage, there are a few factors you must be aware of and make sure that they?re all optimized to get top results from your marketing efforts. Getting them wrong can end in frustration and a loss of time, energy and money.
Let?s look at the 7 steps below:
1. Create a Plan for Your Affiliate Business
If you fail to create a plan for your affiliate business, you?re planning to fail. Before even getting started on buying a domain or content creation, you?ll need to assess if your niche is worth targeting. Is it overly competitive? Are there enough related products to promote? How will you target keywords, will they exact or long tail keywords?
You need to know your plan of attack and exactly what you?re going to do. That is your first step.
2. Research Your Niche
The second step is to research your niche. Even if it takes a week or two doing thorough research will help you get a feel for the niche. If it?s a large niche, will you focus on a subset of that niche? Who is your audience, how will you help them solve their problems? And, what will you offer them to monetize your business?
Once you know what to look for and how to cross promote you can quickly scale your affiliate earnings. Learn the skills and you?ll hit more winners than not.
3. Understanding How to Get Traffic
Traffic is of paramount importance. One of the biggest parts of successful affiliate marketing is understanding how to get traffic to your offers. The more targeted traffic you have going to your online assets, the more sales you?ll make.
So, you need to know where you?ll be driving traffic from and what you?re going to do. Successful affiliate?s focus a huge chunk of effort on getting the right traffic to web properties. They also build a list so to give value, build rapport which contributes to their audience base and as a result increase the bottom line.
4. Content Creation and Marketing
No matter what niche or affiliate product you?re promoting, there will be some type of content creation involved. You could be writing blog posts, making YouTube video's or just pinning images on Pinterest ? whatever the platform, it is content creation and marketing.
When people go online, they?re looking for content or information. If your content offers solutions or is more engaging, you?ll attract more visitors and retain them. Your #1 goal should always be to help the visitor out. If you put your visitors need first and offer great content, it?s natural that should they chose to buy they will purchase from you. Long term successful affiliate marketing is done ethically, and you never have to worry about being salesy. It?s a win-win.
5. Promoting Your Content Across Platforms
When you?re online, you must be consistent in promoting your content across platform. Actively post your images, share your videos in as many places as you can, get in front of as many crowds as possible, etc. And be consistent, when you drop off the face of the earth for a long-time people will forget and move on. You are building trust and rapport, so less and more often is better than a ton of stuff in a day. Learn social media well and it will be a great source of exposure and highly targeted traffic.
For example, there are people on Pinterest who love home decor. There are also people in Facebook groups who also love home design. And, let?s not forget all those who subscribe to home d?cor channels on YouTube? because they all love home design.
Guess what? Though they love the same, most of them are not on all 3 social sites. So, by promoting your content on different platforms, you?ll reach more people, expand your reach and yes, increase your sales.
6. Analyzing to See What Works
Analyzing to see what works and doesn?t is key to knowing what to focus on. Analyze your traffic stats, clicks, sales, conversions, etc., even if numbers scare you. Once you understand the numbers, you?ll know how to scale your efforts and improve upon the winning strategies while dumping the losers.
This is one thing successful affiliates do. It?s easier than you think, once you learn it?ll become second nature.
7. Rinse and Repeat to Scale and Profit
When you find out what?s working and keep repeating your efforts. All you have to do is rinse and repeat. Imagine you have one website that brings in $3000 a month consistently, what if you multiple that by 5, 10, that could mean $15,000, $30,000 or whatever your goal. Once you know the steps, make it work, it really is simple duplicity.
These 7 how to be successful in affiliate marketing steps will take you far beyond being average. Even if your brand new or have an existing blog you can do this.
Ready to become a top affiliate… Get a Free Membership and start learning today!
OR
want to learn about it the Top Affiliate Marketing Training Platform read the in-depth review!