Wealthy Affiliate Frequently Asked Questions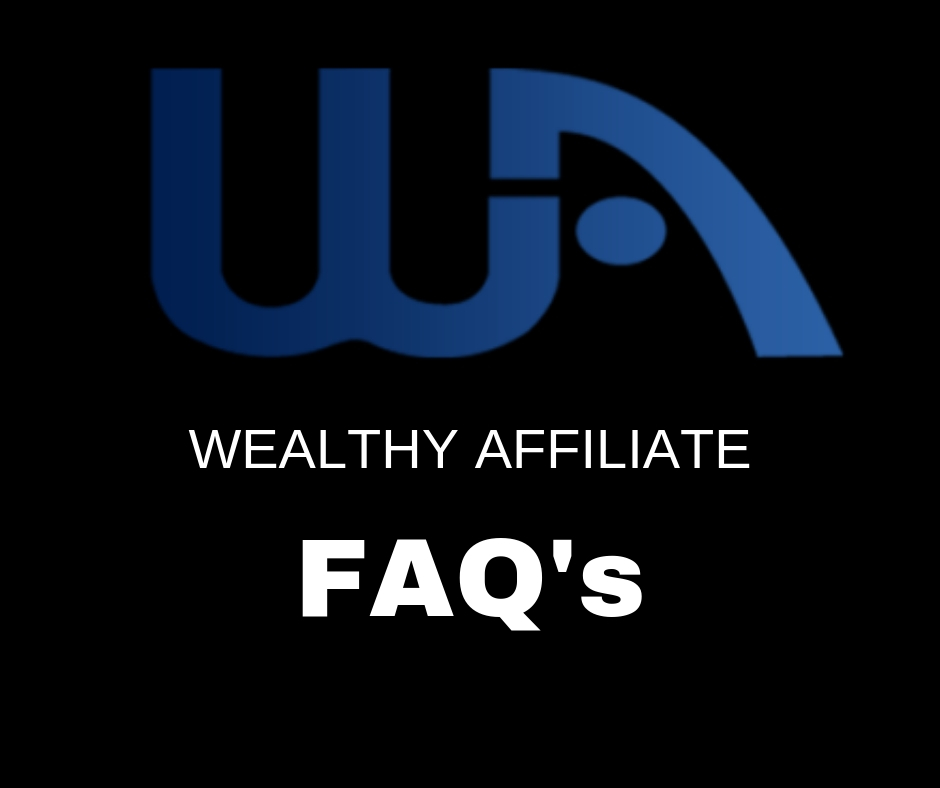 If you've heard about the Wealthy Affiliate you've probably seen some lengthy articles, while they are full of excellent information sometime's you just want the short version.
For all the information, grab a coffee and read my Wealthy Affiliate In-depth Review ==> Here<==
Wealthy Affiliate FAQ's in a Nutshell
Let's answer your questions:
1. Q: What is Wealthy Affiliate?
A: Wealthy Affiliate (WA) aka Wealthy Affiliate University is a complete learning platform where you can learn all the essentials of Internet marketing with a focus on Affiliate Marketing.
2. Q: What will I Get from WA?
A:?You will get the four essentials elements of business building online:
Coaching and Training
Tools – all the tool you need to start your business
Community
Technical Support
3. Q: How Much Does the Wealthy Affiliate Cost ?
A:?The starter membership includes what you need to get started is free ? that?s right Zero Dollars.
Premium includes unlocks more features with 50 websites which include hosting $49 a month or just $359 annually (a huge discount). Yes, that's it, and the price hasn't increase since the beginning.
4. Q: What Will I Have to Do?
A:?Follow the step by step training, where you can create your own web based business.
5.? Q: How Much Time Does It Take?
A: ?The training is set up so you can work at your own pace, whether you have a few hours a day or few hours a week. The more time you can commit the faster will be your progress ? but in the end it is up to you.
6. Q: What If I Can?t Do It?
A: When you learn anything new its normal to wonder what if you can't do it. Once you get started your confidence will grow. Once of the outstanding things about the WA is it's support. However, if you really don?t feel it?s for you then you can simply stop. There's no pressure only encouragement.
7.? Q: How Long Before I Make Money?
A: The time it takes to make money will depend on the niche you choose (the products you decide to market), and the amount of time you devote to learn. All these will factor into how long it takes to make money. Some make some money in a month or two, others take up to a year and some can take longer.? There are many factors but what to remember is you are building a business that will continue to make money for you forever. You're building online asset.
8. Q: What Tools do I Need?
A:?The tools you need are provided by Wealthy Affiliate such as:
Hosting is included for your website(s)
Templates (themes to create the look of your website)
Keyword and Research Tool essential for creating your content -Try Jaxxy below type in a keyword 🙂
Everything you need to build your website and create your business is in your WA dashboard
All you need in your personal work space is access to a computer and internet.
10. Q: Do I Need a Web Site?
A:?The short answer is yes. Even if your not technical, everything is included in your very first training sessions. The WA teaches you how to make a web site and it's so much easier than you imagine. The Wealthy affiliate does everything to remove the overwhelm including the tech stuff.
11. Q: What Language is Wealthy Affiliate In?
A:?Wealthy Affiliate is in English. There are members from all over the world. Check out translation tools options as the the same information applies to build you business no matter where you are located.
12. Q: Do I Need my Own Products to Sell?
A: Short answer, no. You will be selling products or services other people's products. So you'll never have to buy or store stock or deal with distribution or customer service. Wealthy Affiliates teaches affiliate marketing the simplest and most preferred ways to make money online. Of course if you have a blog or business selling products the WA is ideal for you to monetize further.
13. Q: Do I Need Prior Training?
A: You'll find everything you need at the Wealthy Affiliate, it's equipped to teach brand new beginners to experts alike.
14. Q: Does the WA Offer Up to Date Training?
A: Wealthy Affiliate has been providing up to date training since 2005. The platform is dedicated to staying ahead of the curve with updated training and tools for optimal training results.
15. Q: Can I Get Help if I Need It?
A:?Yes,? the WA was written by Affiliates for Affiliates, there are literally thousands of members who are all ready to help if needed. You type your question in the classroom forum and ,you can expect to get answers within minutes.
16. Q: Is There Any Support From the WA?
A:?You bet, WA offers great support based on their 14 years experience running the company. All you have to do is to ask for it and you can get help either from the founders and coaches, long term expert members and WA ambassadors.
17. Which Countries Cannot Get a Starter Account
Starter memberships are not available in certain countries for many reasons , because it has been determined that there are is a high rate of gaming and fraud it's in the best interest not allow Starter accounts from these countries.
By all means they can still join as a Premium member, so they are not fully excluded, this decision was made based on several factors and was certainly not a rash decision.? People can absolutely still join from these countries, but they have to commit to a Premium membership.
Here is a list of the countries:
Nigeria
Vietnam
Philippines
Pakistan
India
18. Q Who Is the Wealthy Affiliate for?
A. The Wealth Affiliate is equipped to teach brand new beginners to intermediate and experts marketers who offer step by step training, tools and webinars. All are constantly updated to give? everything you need to learn. It has everything you need to know to become a successful affiliate marketer. If you're willing to learn it's for you!
Stay at home moms and dads
People getting ready to retire or those who wnat to supplement their retirement income
Student who want to pay off their student loans or become entrepreneurs
Laid off – anyone who wants a career change or to have a second income back up plan
Veterans who want a career path they can be proud of
Work at home seekers
People with disabilities
Over-qualified or under-skilled
Don't fit into the traditional school system (like me)
Absolutely who wants to be their own boss, earn and life on their terms form anywhere
Conclusion
To wrap this up, I hope you'll find our Wealthy Affiliate FAQ's handy. To learn more? Wealthy Affiliate and affiliate marketing check out the in-depth review.
Get Your Free Membership Today! no pressure and, no credit card required 🙂