Can You Make Money Blogging… for Real?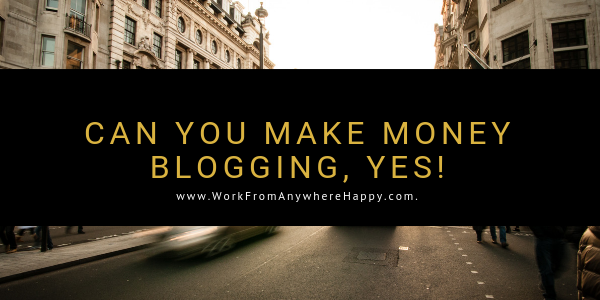 You'd love to start a blog but you're wondering can you make money blogging? Short answer, Yes!… thousands of people make extra income, even full time income as bloggers. Once thought as a hobby, blogging has become a dream job for people across the globe.
Done properly blogs can be very profitable and the concept is fairly simple; pick a topic, build a simple website, create content and attract visitors. Once, you've set the framework there are several ways to monetize your blog.
How to Pick a Topic for Your Blog
The best way to pick a topic for your blog is to create it around something you love. You know the quote ~ If you love what you do, you'll never work a day in your life. So imagine earning income from a topic you enjoy.
There are millions of cool topics, mom blogs, fashion, pet, make money, travel, even fun and quirky ones, the list is endless. And, the great news is if you're interested in a subject the chances are so will thousand of other people.
What are the Best Topics for a Blog
If you're wondering what are the best topics for your blog here's a few ways to decide. In the online space the "top 3" main categories are Health, Wealth and Love. These are all great topics, but they are huge competitive niches. The best way to build a blog is to start with a niche that you can become known for, so let's say you like the health niche, think of an area of health that interest you. It may be skin care, weight, loss, fitness and though those are still massive niches you narrow down further, so Let's take skin care a subset maybe skin care for women over 30.
The more you niche down the quicker you'll build and audience that comes to see you as the expert. Also, consider a niche with a variety of items related to that product that you can offer for sale. Ideal niches will have multiple products such as skin cream, supplements for skin, make up, you get the idea. So just a side tip and I know tat's not you if you have a very obscure interest like the mating habits of pygmy frogs, you'll have a very small audience and nothing related to sell.
There are so many choices you are only limited by your imagination. Now that the idea's are flowing, it's time to look at what you need to start your blog.
What Do You Need to Start a Blog
So now you have some topic ideas, it's time to look at what do you need to start a blog? Some of the best blogs are clean and simple so there's no need to worry about getting too fancy right now. Let's look at the 3 main things you need to get your blog started:
Choose a great blog platform
Pick a web host for your blog
Get your own domain
Not sure how… check out my review #1 recommendation for training
One of the simplest and most popular platforms around the world is WordPress known for its ease of use. Once you choose your platform it's time to get hosting, this is where your websites lives. You can get hosting for around $7-8 a month some time cheaper check to see best prices here.
Now you want to pick a domain, the name for your blog. You want to get your website found online so if you can try to come up with a name that relevant to your topic. In saying that if you have a unique name you can use that also especially if you are planning to build a brand around it.
Once the foundation of your blog is set up your ready to add your personal touches and awesome content.
How to Create Great Content
Once you have your topic and website up next, you want to learn how to create great content. Content may include written articles, video, images, gifs, etc great blogs include a combination of a few.
The goal of your blog is to attract visitors, when they come to your site they are looking for information, or help. This is where you get to shine giving them exactly what they want. It's important to create content around relevant keywords. The right keywords will help you write the best content that people are searching for.
Attracting Visitors to Your Blog
As you add relevant quality you'll start attracting visitors to your blog. When you content you will naturally begin to gain rapport and trust with your audience. Once you do that you will be able to present offer to your visitors making sales without being salesy. Now that you're getting visitors Let's look at the ways to make money with blogging.
Ways to Make Money Blogging
There are many ways to make money blogging, with physical or digital products or, monetizing with other methods such as?PPC and more. But let's pick one method as an example. Let's say you have a blog on skin care and writing about how to use the products, you could write a review about relevant products. This way you can make a commission on every product that sold. This is what affiliate marketers do and some have very lucrative businesses.
Wrapping It Up
So yes you can make money blogging and join the ranks of work from anywhere tribe.
One of the best places to learn blogging and making money online then you'll want to check out this review. OR, if you are ready to get started grab your FREE membership which comes 2 free website (for 6 months) and hosting FREE.
Get started today!
~ Love
Andrea