Affiliate Marketing for Beginners 7 Rules for Success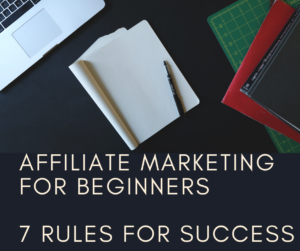 Ah the life of an affiliate marketer it no wonder people are searching for the best affiliate marketing for beginners training. Of all the ways to make money online affiliate is one of the most profitable business models. Many online marketers have made millions of dollars from it and continue to do so daily.
The concept is simple. An affiliate creates content that promotes other people?s products. For example, if you have a website on fitness, you may write about the best water fitness equipment and drop a link to popular paddle boards being sold on Amazon or another company that has an affiliate program.
Visitors who come to your site will click on the link and just might buy a paddle board from Amazon? and you?ll get a percentage of the sale aka an affiliate commission. Its like being an online salesperson without the hassle offer ever having to touch the product, or face to face sales and never have to handle customer service.
Affiliate marketing is also much easier than other types of online marketing.
There is no product creation involved. You won?t need lay out money for products, store them or package and mail. It?s a very ?hands free? style of marketing and something that would be suitable for most beginners who want to make an income online.
In this article, we?ll look at 7 tips for success that you should know. Use them in your business and you can quickly take your affiliate marketing to the next level.
1. Sell the Problem the Product Solves
As an affiliate marketer your job is to ?presell? the product. Pre-selling basically means that are creating relevant content about a product, talking about the benefits and negatives if there are any. This way you can ethically recommend the product to someone without being too salesy.
For example, if you were back pain that hurt all the time and you tried out new herbal cream that relieved the pain? you?d tell anyone who cared to listen about this miracle.
If a friend of yours suffered from the same problem, guess what you?d do? You?d tell them about how the natural back cream that worked for you! This is word of mouth ? and that?s exactly what you would be doing, creating content in a form of your choice, one of the most popular blogging. This affiliate marketing is in a nutshell.
The process is simple, whatever the topic you are promoting, whether it?s baby strollers, beauty products, engagement rings, fishing gear, or anything, you just share the benefits that help them solve a problem. Once your visitors see the benefits and click on an affiliate link in your article, they?ll be taken to a sales page that will do the selling for you. If they make a purchase your link tracks your sale and you earn a commission.
2. Only Promote Reputable Products
There are tons of poor-quality products, hyped up and don?t deliver on their claims. They?ll often offer a high commission just to attracts affiliates, but this can easily backfire as buyers ask for refunds. Not only will this affect your bottom line but it?s just a matter of time before visitors to your blog lose trust in you and your recommendations.
There are millions of top quality and high paying affiliate networks, who promote solid reputable products who pay a good commission. Some even have products that offer recurring commissions a perfect way to create a passive income. Supplements are a good example.
With all the products available that pay affiliate commissions only promote products that are good quality, and that people love. You can always search online or on Amazon and find for real customer reviews and ascertain the quality of the product based on buyer feedback.
3. Know When to Mail Your List
If you have an email list, and I recommend you build an email list, do not email them incessantly about the latest and greatest products offers. After some time, they will drop off your list leaving money on the table. There?s a right way to grow and nurture your email list that can will? attract a loyal following and help earn thousands of dollars for you. This is a must do when your learning affiliate marketing for beginners. Do this an you can surpass the experts.
4. Give Value and Less Selling
As a marketer, you should always provide more value than actual selling. People come online to learn or become better informed to solve their problems. Help them more than you sell to them.
For every email you send with an offer for a product, send 3 other emails over the next few days offering value ? this could be either content that informs or teaches or is just fun to read/watch. This is more than the sale this is about helping your visitors, as you build rapport and trust.
5. Know Your Niche
You must know your niche. If you?re targeting people who want everything horses, do not have links going out to knitting, etc. I Know that sounds obvious, but I have seen some pretty bizarre things. You must know the needs of the people in your niche.
Consider what problems do they have? What are they looking for? See which are the most popular products that they?re loving?
When you know what your niche loves, you can sell better and truly bond with them. Stay on track and be aware of trending topics in your niche. Cater to your market all the time. Trust me it can be a gold mine.
6. Cross-sell Where You Can
When you pick a niche be sure there are related products that you can promote. For example, if you have a survivalist site, you don?t only need to promote survival training courses. You could also promote a course that teaches people how to make survival foods, sell outdoor gear, first aid kits, etc.
This is cross-selling. Constantly be on the lookout for ways to introduce new and RELATED products to your niche? and tell them how these new products will help them out with problems that even they are unaware of.
7. Keep Creating More Content
Good content is king. It doesn?t matter if you?re creating blog posts, posting photos on Pinterest or making videos for YouTube. The goal is to create as much keyword rich relevant content as possible.
If your content is informational and interesting, you will build a tribe that follows you and wants to hear what you have to say. Once you have built trust and loyalty, promoting products to your audience will be much easier.
To wrap this up, if you?re implement these 7 rules in affiliate marketing for beginner, article it can immensely help you with your affiliate marketing business and increase your revenue stream.
Start Working for Anywhere Happy!
Want to learn more… check out our Review of the one of the Best Affiliate Marketing Courses Here
Join us on:
Facebook
Twitter
Pinterest