Why You Need to Make Passive Income Your Goal!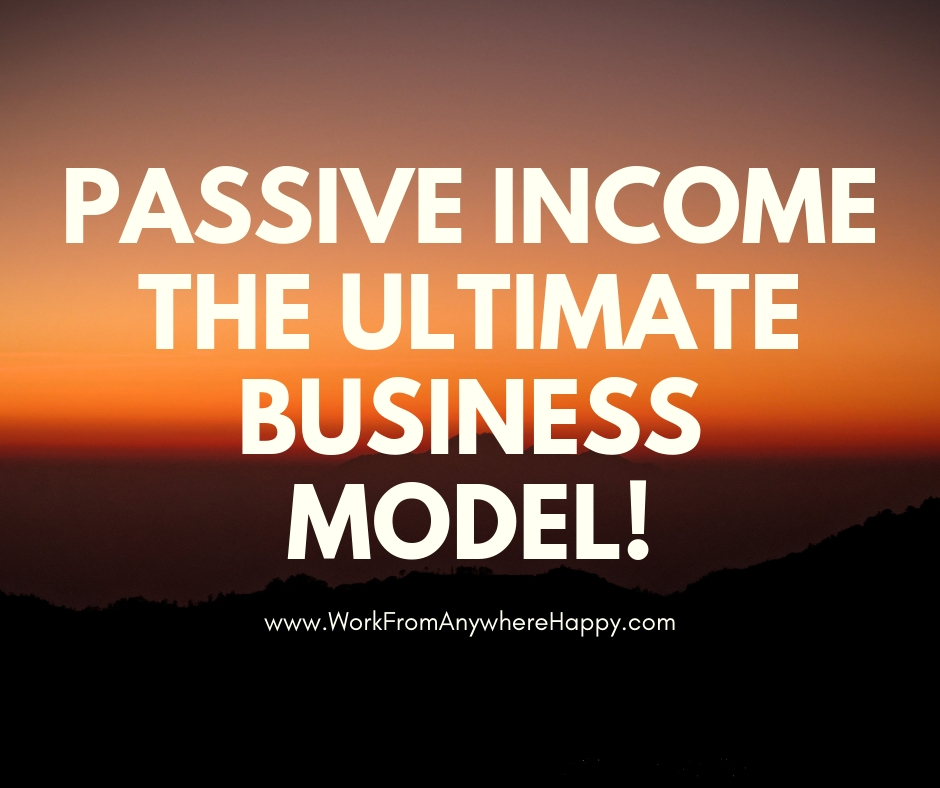 When you start a business online the ultimate goals is to make passive income. Making consistent money is how successful marketers make a lot of money. Once they set up one business that makes money they don't stop there. Really smart marketers duplicate their process so they can have multiple streams of income that make money almost on autopilot.
Now you are wondering what is passive income. And can anyone create a business that makes money even when you are not physically working on it! So what is passive income?
What is Passive Income?
You likely heard that some people earn money while they sleep. Generating passive income means that you earn money without having to work. With this said, though passive income businesses doesn't require to work onit 24/7, that doesn't mean you don't have to work to set it up. It means once you create a business model that's capable of running itself, it is possible to profit from it long into the future.
The passive business model is one that one can leave it on auto, or you can chose to grow the business. This may be done by duplicating a process that you can scale to increase profits in your own time.
The end goal for most people is to create a business where you no longer actively trade precious time for money.
Start Making a Passive Income Today!
Passive Income Online Vs a Traditional Business
Working online increases your freedom to a great extent because it allows you to choose how and when you work. Unlike a physical business where you provide a service in return for money, once set up an online business requires a lot less time constraints.
In a traditional businesses if you take time off the chances are you will lose money. And you run the risk of upsetting or losing clients that expect you to be there. As a result this again can mean losing your income.
But with passive income online, it is more than possible to have more freedom. You can choose to take the entire day off, or a few weeks, or the dream of the 4-hour work week without repercussions. Now there are several ways to work online, but, not all model are created equally.
Many people start a business online; their plan is to enjoy more time, freedom and to make unlimited income. But choose the wrong path and that "freedom-based business" can quickly take over your life.
Worse is that some methods involve designing and creating products, and dealing with manufacturers, packaging shipping and so forth. This types of business can turn into a mass operation which can in fact turn into more than a full time time job, while others put you on the path to passive income. One such online business model is affiliate marketing!
Affiliate Marketing to Create Passive Income
Affiliate marketing is one of the top ways to make a passive income. Once you see how affiliate marketing works it's easy to see why its one of the most preferred online business models. And unlike complicated models when you need to hold stock and ship product, affiliate marketing is relatively hands off.
There is no product to have on hand, nothing to ship and it can all be done online. So how does affiliate marketing work?
---
Affiliate Marketing the 4 Components
As mentioned, affiliate is one of the simplest of all models in generating a passive income business. There are 4 main components involved:
1. Pick a topic
2. Create a simple website
3. Create content
3. Drive traffic
Once set up it is time to generate revenue, and it is possible to maintain in your business in just a few hours a week. Or, you can outsource the work.
---
Can You Make a Lot of Money with Passive Income
For many people, generating a passive income is ideal not only because of the freedom it gives opportunity to use the extra time to scale and make a lot of money. More than any other type of business, the passive income model will allow you to scale.
Why? Because if you start earning money that doesn't require all of your free time, then there's not reason use your free time to set up another passive income model. It's a simple rinse and repeat method for making more money.
And each time you do this, you increase you're potential earnings several fold. You can also often increase the earning potential of a passive income model simply by investing more money to scale it up directly. Like outsourcing.
And the more separate passive income businesses you create, the more resilient your business will become. Imagine ten separate businesses, multi streams of income?
The beauty is its all up-to you. You can choose to be happy making an extra $100 a day, a $1000 a day, $10000 or more. You can scale as little or much as you chose depending on the time you'd like to invest on your business. Remember the goal of passive income is to create a life you want on your own terms.
---
Multiple Passive Income Streams, Easy to Scale
If you're looking for ultimate freedom having multiple passive income streams can provide you with a truly wealthy life. And, once you know how it's easy to scale.
It's time to dream big! Consider what you really want, I mean really want in your life. And while most people will say money? many people desire more time, freedom from a boss, or spend time with family. Other people dream of travelling the world, maybe working as a digital nomad. Maybe it is to support charities they love? or want more than anything to find a pursue their passion. Whatever it is money can help to make it all happen.
Let us keep things very conservative, forget about boats, massive houses and luxurious living? As we look at a real example that is life changing for most people.
Imagine you have one business that make just $1000 a month, that's around $33.33 a day, which is doable right?
Now multiply that conservative amount by 3 business, that is $3000, and what about if you multiply this by ten times. That is $10,000. You get the picture, you can keep multiplying as high as you'd like. $50,000 a month or more, so what could you do with that?
If we are honest a few thousand more a month is life changing, pay the mortgage, buy a car, put the kids through college or live without worry?
So you can see how how multiple streams of passive income is a goal that is not only doable but it's incredibly life changing.
There are countless ways you can create a truly passive income to live the life you want. It doesn't even mean you have to quit your day job if you love it! Passive income can simply mean enjoying life on your own terms? Now that is real freedom!
---
Where Can You Learn to Create a Passive Income?
This is a crucial step, do this one thing right and you can quickly be learning everything you need to learn to create a passive income. So if this sounds like a dream it's time to get started! The first thing is to avoid make money online scams. There are lots of these online and if you get caught not only will you lose a lot of potential income but it will put a damper on your future.
With this said you need to find a course that will give you all of the steps and not merely pieces of the puzzle. You need a course that gives you all of the pieces as well as the tools to get started and at a price you can afford.
The very best training online. will also provide support if you get stuck so you can easily continue. These are the keys for success.
What to Look for in the Best Course to Learn
The best course to learn how to make a passive income should include 3 main components:
Excellent up to date training, so you're always ahead of the curve
Tools to Grow Your Business ? so you never have to guess
Support so you never get stuck
To learn more I recommend that you Check out the Review Here. Or you can get a FREE Membership and check them out for free (no credit card required)!
Concluding Make Passive Income Your Goal
By reading the above it is easy to see why passive income is a goal for any business owner. Once you get set up it is more than possible. But it is not without work or commitment. Just as you did in school or in a job there are skills you'll need to learn. But the great thing is you can learn in your own time.
There is no need to quit your day job, simply set aside an hour or two a day, commit and learn a new set of skills for life. And ones that can create a business online. Which will set you up to make a passive income goal for your future.
Today I will do what others won't, so tomorrow I can accomplish what others can't ~ Jerry Rice
If you want to learn how to start an online business then check the article on affiliate marketing? And visit the Wealthy Affiliate and Get Started Today!