What Does the Cost Wealthy Affiliate Cost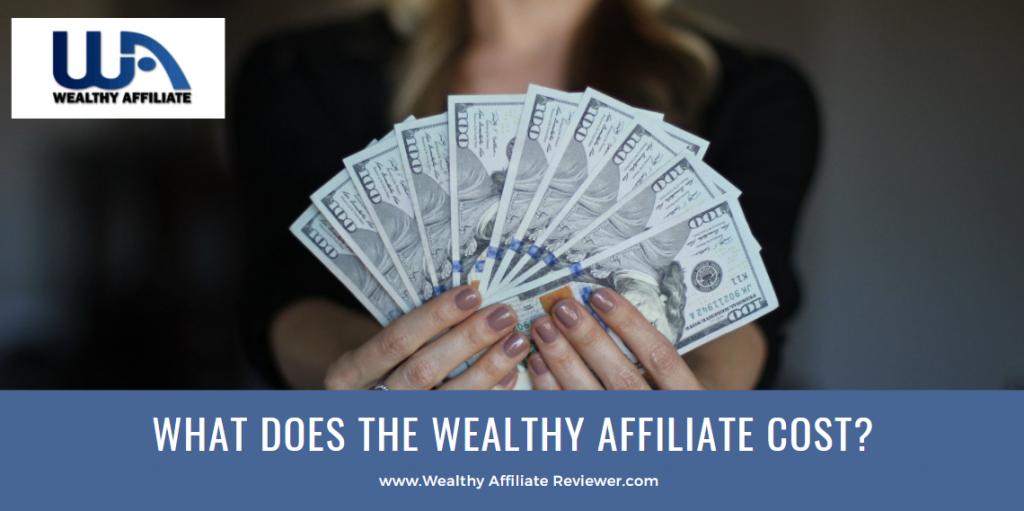 The Wealthy Affiliate offers a variety of pricing options. Including a FREE option if you want to take a look inside their popular online platform.
Once you get a free account, Wealthy Affiliate then offers access to all of the premium tools for $19 for the first month. After the first month you can choose a monthly plan for $49 a month. Or get a huge discount with their premium annual plan.
For those who are ready to go all in then Premium plan is by far the best Wealthy Affiliate price. This Premium includes everything you need to start a successful online business. This includes coaching, lessons, hosting, tech support, and more. The chart below shows the difference between Start 'Free' and premium the WA Premium it's less than a good hosting package which is included).
Wealthy Affiliate Price Chart Compares the Start Versus Premium Membership
---
While some courses charge upwards of several thousand dollars. The Wealthy Affiliate reports to have the best training and tools (all in one place) for a very low cost (even FREE).
With thousands of member The Wealthy Affiliate aka "WA" has thousands of members from beginners to experts. In part the success of the platform and thousands of it's members is that it is one of the most affordable internet courses that provide everything a person needs to get started online.
Not only do they include some of the best internet marketing training available, you get access to the best tools necessary to grow an online business.
Let's take a look at the Wealthy Affiliate price and then we'll look at what is included in the premium package for Just $49 a month!
---
Wealthy Affiliate Price Plans
There are several types of membership costs at Wealthy Affiliate:
FREE Starter Membership Cost
There is a FREE starter membership – the free member option is perfect if you want to get your feet wet or see what the Wealthy Affiliate is all about. All you need is an email (no credit card required) get instant access which include websites on WA SiteRubix platform.
The FREE option is available with the exception of Bangladesh, Ghana, Egypt, Kenya, India, Morocco, Nigeria, Pakistan, Philippines, and Vietnam. Those living in all countries including the above can get immediate access to the Wealthy Affiliate as a Premium Member ($49 a month). Which is a great value when you consider what you get.
First Monthly Membership Cost (WA for $19)
If you get a FREE membership (recommended) you have the option to take advantage of the low $19 first month membership. It's almost 59% discount over the $49 monthly cost for just $19. WA helps wherever possible to keep costs low so you can focus on learning and building your business.
Wealthy Affiliate Monthly Membership Cost
The monthly membership is $49 a month. In the past 11 years it's only had one increase from $47) so you never have to expect and surprises. If your on a budget this allows you to budget as you start and grow your business. That comes to $588 for a year and you can switch and save to annual at anytime.
6 Month Wealthy Affiliate Membership (New)
The Wealthy Affiliate recently introduced the 6 months membership. This half-yearly membership? costs $234, which? works out to $39 a month (saving of $10) off the monthly membership. This is an incredibly popular option for those who are ready to kick start their new online business.
Yearly Wealthy Affiliate Membership Cost (Annual)
Premium Membership (Paid monthly): $49 per month. If you join the premium membership during the first week of going as a starter member, you will get 60% discount on the first month and you pay only $19. After that first month, you will be paying $49 per month.
Wealthy Affiliate Premium Membership (Paid annually): $495 per year (equivalent to $41 per month, so you save 15%)
You can upgrade to the yearly membership anytime and will then benefit from the huge discount and pay only $495 per year, instead of the total $588 per year that you pay on the monthly plan.
This means that the membership costs you less than 1.50 dollars per day in exchange for a super comprehensive all-in-one tool.
.92 per month with a saving of $19.08 per month and of $229 per year. If you've been paying monthly and want to upgrade, they've made that easy too as the membership is prorated.
For example if you have been paying monthly and wish to upgrade before the end of your 12-month year,*? the cost is pro-rated. That is, $359 is divided by 12 and the result multiplied by the number of months remaining for you to come up to one year.
Does Wealthy Affiliate Have a Black Friday Sale?
Many people take advantage of the Wealthy Affiliate Black Friday special. This black Friday deal brings the annual membership cost to just $399. This is incredible when you consider? the entire package can be less than website hosting alone (which is included in the WA membership).
You can also benefit if you already have a membership and want to get and lock in the best membership.
So if you pay a monthly rate you can upgrade during a Black Friday sale. You can pay and get the remaining months for the new price. This comes to a saving of $5 per month and $40 per year.
*Your year begins from the month you joined Wealthy Affiliate to the end of the next 12 months. So your membership is not calculated on a calendar year which begins in January and ends in December.
Upgrading your membership from FREE to Premium is always an option. It's a decision you can make with confidence as you grow you online business. Not sure, Get Your FREE membership and try it out today!
Are There Additional Costs at The WA
Unlike many courses there are no pop-ups or up-sells at the Wealthy Affiliate.
Once inside you have instant access everything you need;
thousands of hours of step by step training, live webinars, the WA community and coaches, technical support and all the tools necessary to grow your business. All in one place and included in the membership!
Wealthy Affiliate is incredibly transparent about the way they do business which is why the offer a Free membership so you can explore the platform for yourself. If you like what you see (and I'm sure you will) you can upgrade to a Premium member easily and, without any up-sells.
Anything Else You Need?
If you choose to build a list (highly recommended) for any business all you will need is an email autoresponder). Everything required is included (top affiliate marketing training, online business tools and community support all in one place) is already included in your premium membership.
Wealthy Affiliate Membership Includes
Besides the expert training, webinars, coaching and support that is suitable for beginners through expert levels, WA premium membership gives you all the tool you need included such as:
Hosting Included
You will have access to state of the art hosting, with top security on Wealthy Affiliates own servers. Your websites are built on WordPress and can be hosted on your own domain(s).? So if ever you decided to leave WA, you can transfer your websites. This is an important options that WA allows for any business owner. The best hosting ensures a top user experience for you as the business owner and your visitors.
SSL Certificate(s)
A SSL certificate is a layer of security that protects information from a web server to a browser. It's helps protect payment options, information that helps protect you, and your visitors and can help you get your website get ranked in Google and other search engines. You can learn more about SSL or have confidence knowing that Wealthy Affiliate membership has you covered.
Keyword Research Tool
As part of WA training you will learn never to write a word without the proper keyword research. This requires the best keyword research tools to help you create content around keywords that you can make you money.
WA's proprietary keyword tool Jaaxy is part of your membership (Jaaxy Lite) that's included in your membership and basic for your Free membership. It's an awesome must have tool.
Content Creation Software
As you build your business online you will typically create content. Your content may be in the form of blogging, video, audio, or a combination. To help you create great content Wealthy Affiliate Premium give access to all the writing tools you need such as:
writing templates
spell check
unique content checker,
Jaxxy keyword tool
If you worry you've never created content, the wealthy affiliate has you covered.
Affiliate Networks (Make Money with Your Site)
One of the most recent updates is Affiliate Networks. As you build your website and create content, it's time to make money with your online business. Next it's time to monetize your blog and to do this you will need to find affiliate networks that you for adding inks (you'll learn this also in WA).
To save you time and Wealthy Affiliate's Networks was recently added. This is another advantage of the Wealthy Affiliate membership.
Conclusion
Besides getting the answers to how much does the Wealthy Affiliate cost we hope you found additional useful information about the Wealthy Affiliate Platform.
If you want to learn more then get a FREE account on their Official Website!