11 Home Based Business Ideas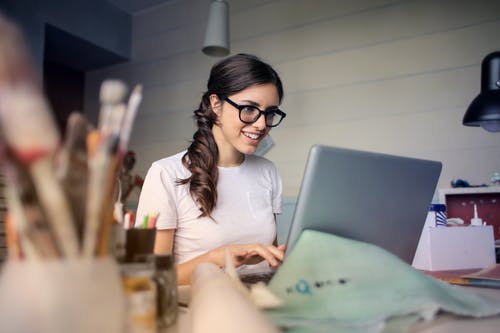 *This post may contain affiliate links. Please read the full disclosure here. 
Are you looking for some great home based business ideas? Yes, read on. If there has ever been a time to start a home based business its now! Whether you want to have the work at home lifestyle, make few extra hundred dollars, or follow a passion and monetize it, then you can do this! To help you begin, here are 11 home based business ideas you can get started with today!
On Trend Home Based Business Ideas to Love
1. Dog Walking 
If you love dogs, cats, or any creatures for that matter, then a pet care home business may be for you. Caring for pets is an in demand business.
And it's a great home based business for people of all ages. Whether you're an enterprising teen putting yourself through college; a senior who enjoys spending time with animal or just love this idea then consider tapping into the multi million dollar industry.
A few animal related businesses are pet sitting, dog walking or you can even start a blog about dogs or y0our favorite animal. Below are a few ways to begin a home based business.
What Do You Need to Start a Dog Walking Business
Besides a responsible attitude and an interest in pets you can start this home based business idea on a small budget. Below is a few ways to market your dog walking business from home.
Create flyers and post them around the local neighborhood, and dogs parks.
Offer to walk a pet sit a neighbours dog in exchange for references
Make a simple website where you can tell people about the services you offer, as well as your rates.
This is a great home based business for a single person, or couple. And if you decide to grow your pet sitting service you have the option to hire and grow the service.
This is a business that you can nurture and grow and one you could potentially sell. Pet care is not a lucrative business but it is a digital asset that is more than possible to sell. Several dog walking businesses have sold for hundred of thousands and into the million dollar range too!
What Makes Dog Walking a Good Business?
Most of all you have regular repeat customers. Plus the service involves a personal touch – if customers like you, then not only will they keep you forever, but they will also recommend you to their friends.
Start on a Tiny Budget
The key to making good money at dog walking is finding customers. Fortunately there are all kinds of ways to land customers for this business. You can start with low cost guerilla marketing, such as handing out flyers at dog parks, and putting up posters or business cards on local bulletin boards, such as at coffee shops and libraries.
Dog walking is also great for digital marketing because you can zero in on your local target audience. Build a website and optimize it to show up at the top of local Google search results. And you can target social media and other online advertising directly at dog owners in your hometown.
A website will give your business a professional touch. And it eliminates a lot of work as you provide a FAQ section about your dog walking service.
2. Medical Billing
The recent pandemic proves that people work from home and successfully. Many businesses require people to perform their billing tasks and medical billing is one of the most popular business ideas. If you know how to use a computer, are somewhat organized then a medical billing home based business is a lucrative opportunity.
Large and small doctors offices, a dental offices to name a few outsource their billing as well as other logistical tasks. It saves them time and money while offering a great business idea from home.
3. Errand Concierge- Home Based Business
Most people live incredibly busy lives, and they will happily pay someone to lend an extra pair of hands. Picking up laundry, doing the shopping, paying the bills and even taking the dog to the groomer may be a few of the errands you can offer in top on the list home based business ideas. One of the top business ideas you can start from home is a concierge style 'errands' business.
4. Make and Sell Items for Profit
Selling product or information such as digital products is a excellent way to start a home business. You can create products yourself or find products that pay affiliate commision and promote them for profit. This can be anything from cosmetics, cookware, candles and or you can create print items for profit.
5. Personal Trainer
People of all ages and stages of life can benefit by using a personal trainer. As a personal trainer, you have the option to make house calls, meet clients at the gym or let clients come to you (if you have the necessary equipment).
So if you have the knowledge about fitness, then this may be a great idea for a home based business. Whether it is weight training yoga, a walking companion (coach), then a personal training business may be the ideal business idea for you.
Remember that often people enjoy company when working out.  A personal trainer can help motivate their client and keep them on track while helping them plan a schedule and improve their overall wellness. 
Although a certification may not absolutely be necessary, it's not a bad idea to find out if you can get one in your state before starting up, just in case.
6. Interior Decorator or Stager
Other popular home based business ideas is home decorating and staging. If you have an eye for color, composition, and organization think about starting an interior design business. Partner with local furniture stores and design businesses and help realtors stage homes for sale. Or lend your design skills for a fee and help other transform their house into a home. Design business cards, a blog and showcase your ideas on social media like Pinterest and Instagram and share y9our inspiration. 
7. Freelancer
Join the ranks of thousands of stay at home or work from anywhere freelancers. Many create content for blogs, while others make short videos or edit them. Other freelancers may use their creative skills to design logo, posters or artwork for t shirts.
In addition to freelancing for other people you can use these skills for your own home based business ideas such as starting a t-shirt business from home. As a freelance designer, you will build an online reputation and eventually have control over the projects and timeline you choose.
8. Online Thrifter – Flipping Products from Home
If you have an eye for unique, sought after or collectible items the flipping products from home can be a lucrative home based business. One couple makes over a $100,000 a year and now teaches others to do the same. Imagine buying a simple door handle and selling it at tens time its purchase price for profit. 
There are lots of ways to flip items from home. There are local facebook market sites, or you can sell on Etsy or EBay or create a custom website where you can focus on specific categories too.
If you flea market flipping is for you then read our article here!
9. Florist or Floral Designer
If you have a green thumb and a knack for crafts, you might consider opening a floral business at home. If you have space then grow your own flowers and sell flowers and floral arrangements at farmers markets. Or carve out a niche for special occasions such as weddings or make seasonal arrangements.
You can also branch out and sell weekly creations to companies such as legal offices. Or design custom floral baskets for realtors who wish to treat their client after the sale or purchase of a new home. In addition y0u might want to add gift baskets to your home based business ideas list. 
10. Blogging and Affiliate Marketing
Once you learn the basic of blogging — there are a few ways for you to monetize your blog. Bloggers make money as by selling advertising space, or promote items related to your blog and its audience, which is most commonly known as affiliate marketing.
Affiliate marketing will allow you to receive payment from companies in return for advocating for their goods and services. The key is to only recommend products that are relevant, and offer value for the reader. review and share the pros and cons of  products which help people to make a sound buying decision. 
11. T-shirt and Print on Demand Designer
The U.S. apparel industry is a $225 billion dollar market. Let's be honest who doesn't own a dozen or more t shirts, and as it turns out, the T-shirt business is relatively quick and easy to get into.
So if you're interested in entering the fun and diverse T-shirt business with an idea or brand of your own, this is certainly one of the best home business ideas for setting your own hours and calling your own shots. In addition to t shirts, there are customs mugs, pillows and a whole range of print on demand items to start from home. 
Home based businesses you can start yourself with a little research and work include services such as dog walking, child care, house sitting, errand running and grocery shopping.  Be sure and check to see if a permit or license is required.
Reasons to Start a Home Based Business
A home business is a good way to make extra money. And it is a great way make an income working from home or anywhere. In addition there are lots of other perks like:
Work on your own schedule
Stay home with the kids or grandkids or your four legged bestie
Save time and money (no more work clothes, gas to commute, parking fees)
Business write off (talk to an accountant and see what you may be entitled to)
Pursue a dream or interest
Take control of your life
The perks alone make starting a home business desirable for many people. If you have an idea of a home based business you'd like to begin… get started! And if you aren't quite sure where to begin… worry not. Because we have come cool home based business ideas to inspire you!
Turn Your Home Based Business Ideas Into a Reality
Find the business or job that's right for you.  You may have to start small and work another job before you can turn it into a business.  But, that's usually the case with any job at home or not.  Search for a business that you have an interest in and show some expertise.  Most jobs are more successful if you enjoy them.
Avoid Work at Home Scams
There are many legitimate businesses out there but there are plenty of scams too!  The last thing you want is to do is spend money when you are trying to make it. Always follow the rule – if it looks too good then it's likely no good. Even the smallest of home based business ideas will take some work.
With this said, take time to learn as much as you can about the business. Look for courses such as long time reputable companies  that will teach you what you need to know. Such as Affiliate Marketing Training such as the Wealthy Affiliate.
Low work big income jobs such as stuffing envelopes, making beaded bracelets. This is where you have to invest in a kit,  are some examples of home based business ideas that are less than great.
Other less than reputable scams maybe we'll send you the top best work at homes list and charge you a fee. There are plenty of ways to find reputable home based business ideas for free.
Many online opportunities don't give much information until you join their business or pay the required investment.  Good companies will offer videos to watch, and they give you tips to get started. If they ask you to part with money and no guarantee or free way to try out the business is then look for other options.
Concluding 11 Home Based Business Ideas to Make a Few Extra Dollars
The best home based business idea will usually be the one you start. Just make sure you have a plan and take the time to learn the necessary skills to make your home business a success.