AWeber Autoresponder Email Marketing for Bloggers
In a nutshell Aweber autoresponder is a well based marketing software for small businesses, non-profits, bloggers, entrepreneurs and marketers. So if you are building a business and growing a list (as you should) then see why Aweber is a tool for bloggers and

Name: AWeber
Website: www.aweber.com
Owner: AWeber Communications
Price: 30-day Free Trial $19 per Month
Overall Rank: 9/10
What is AWeber?
AWeber is one of the longest running autoresponder software services. Beside its longevity it's easy to use, and they give excellent customer support.
It's a favorite tool for bloggers. In fact Aweber helps over 100,000 small business clients keep in touch with their subscribers. This way bloggers and small business owners can manage and use to monetize their email list. So today we give an overview of Aweber and see why its a top choice for work from anywhere businesses.
Pros:
A reliable, robust platform
Affiliate marketing friendly
List management tools
Easy to navigate
Sales tracking
Great support
Affiliate program
Cons:
List based rather than subscriber based
Limited automation
Outdated templates (lots more added)
What does AWeber Autoresponder do?
AWeber is a premium email marketing platform, which was launched in 1998. It is known as a top autoresponder, and in addition it has tons of templates and feature to capture names and emails to build a list.
It will allow you to send emails to subscribers that have opted into your email list either by creating a series of email follow-ups that can be sent out automatically or by sending out email broadcasts either immediately or scheduled at a later time.
Any small business owner, entrepreneur or marketer that wants to communicate via email will find a reliable performer in AWeber.
Tools and Training
Besides the ability to send out emails, it's easy to automate an email campaign with their scheduled campaign builder.
You can can create multiple forms for each list you.  And choose from over 700+ templates you can use.
There is a wealth of video training so you'll know how to get everything set up.
In addition AWeber allows you to  integrate with 100's of different platforms. Below is an image of just a few.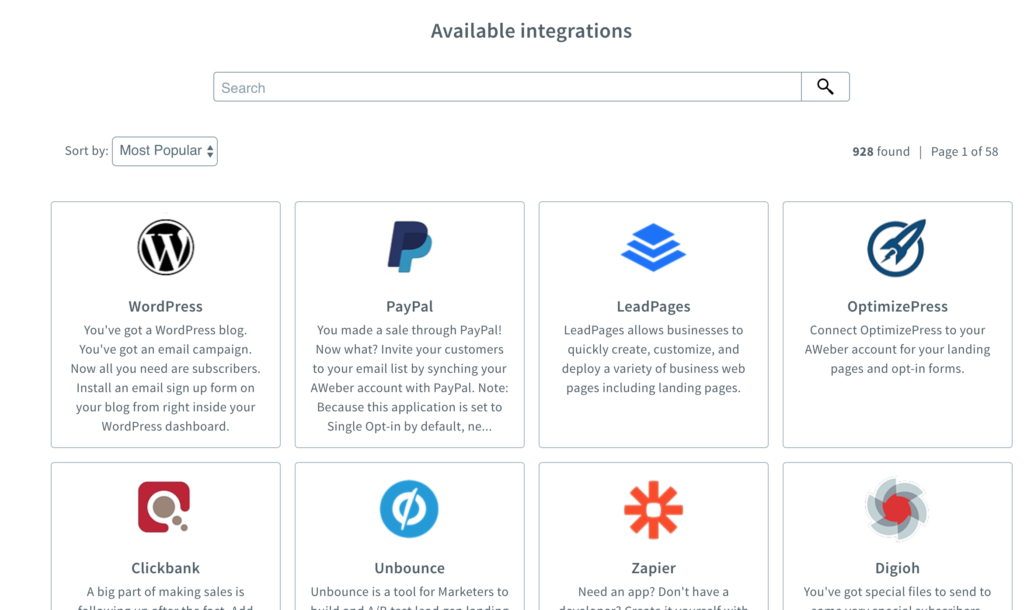 Aweber Autoresponder for Bloggers Support 
One of the big pluses for Aweber is their outstanding support. Instead of getting stuck setting up a campaign simple contact Awebers support team. They offer great support by phone, email or chat. Awebers support team will save you hours of wasted time and needless frustration.
They have a support team that?s available 12 hours per day, 5 days a week.
They have customer support agents that available via phone, live chat Monday to Friday (8 am ? 8 pm EST)? and Weekends (9 am to 5 pm EST)
Their email support will get back to you in less than 24 hours.
They also have a Facebook group called the?Aweber Marketing Community?that is available to members only.
It currently has 3000+ users and is a pretty active community.
How much does AWeber cost?
Aweber starts at $19 a month for up to 500 subscribers and it goes up from there.
There are also quarterly and yearly discounts and it comes with a full 30-day free trial.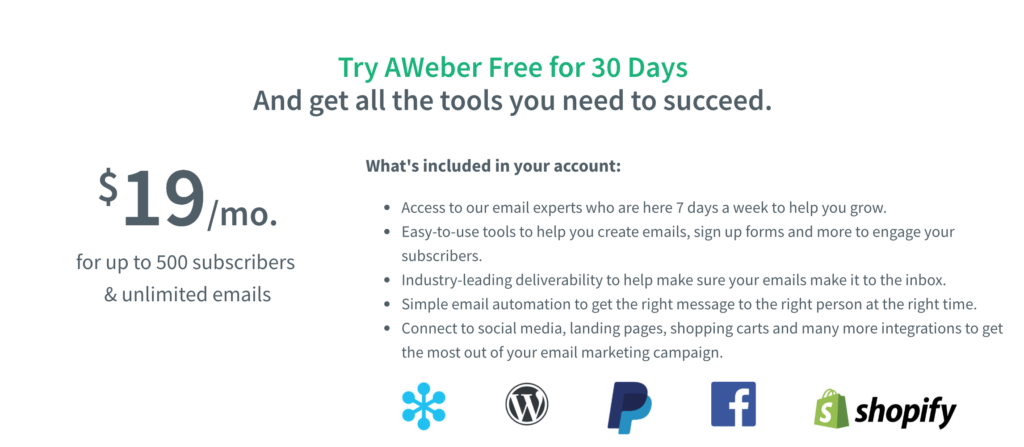 One of the most important things you absolutely need to be doing in your online business is to continually grow your email list.
The money is in the list!
Aweber is a long time player in the autoresponder software world. They have been helping bloggers and small business owner create optin boxes, to build their campaigns and manage their list while giving great support service.
I've been using it for years for my email marketing and have never had any problems with it.
What I really like though, is that it is completely affiliate marketing friendly.
And unlike many others services that are not so affiliate friendly they allow you to do single and double opt -ins to test and monetize your blog.