Work from Anywhere Happy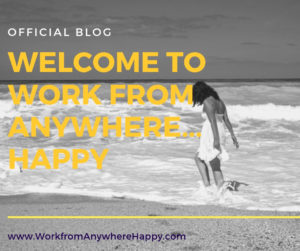 Welcome to Work from Anywhere Happy. (dot) com. If you dream of working from home or traveling the world, making an income doing something you love,?you're in the right place
This site is dedicated to you… it's a place to discover the from anywhere lifestyle (even home) and finally taking your life back.
Thousands of people just like you have found a way to make money from anywhere.
Discover ways to make money,
get reviews of some of the best courses online and learn how you can turn your dreams into a reality.
Whether you dream of trading the daily commute for a home office or RV, be your own boss, or want to create a back up plan so you never have to worry about going without money again. Then this is or you.
Is the Work From Anywhere Life Really Possible?
The work from anywhere life is a reality thanks to the Internet. For generations most of us have been forced into the daily grind with little hope of change until now. So, if you're tired of settling and ready for change now is the time to get excited about all of the possibilities.?
Men and women all over the world are soaking up the reality that there is more to life than working to die. People are embracing a freedom based life. Earning from their cozy home office's, a cottage in the country, a beach front villa or wherever their hearts desire.? Sounds appealing? Learn how…
What Do You Need to Work from Anywhere
So what do you need to work from anywhere? The biggest thing required is a you, if you are willing to learn and dedicate a little time you can create a freedom base business.? In terms of education it's important to find the best best online course. There are courses such blogging, freelancing and affiliate marketing where you can learn on your own time as you plan for your future. The beauty of learning and working online is that you can get started with minimal tools, often just a laptop and an internet.
Learning to Make Money Online
Learning to make money online is easier than ever. If you have some basic computer skills it will be easier to navigate, but even brand new beginners are creating websites for their online business.?
While many people start a business to follow their dream others learned out of necessity. Having a back up plan to make extra income is always a good idea because we never know when life can change. People who work online from anywhere come from diverse backgrounds with unique stories. Some have struggled financially, suffered tragedy and adversity. Many have worked in thankless jobs for little money, while others left stressful corporate jobs, They range from students to seniors all with dreams… to find purpose, to live with meaning, financially free and so much more.
Life is short, so why not live it your way.
Do You Need Prior Education
One of of the best thing is you don't need prior education or training to get started online. It's really an equal opportunity as long as your willing to learn. Some of the best known entrepreneurs are high school drop outs. This is good news for anyone who didn't fit the traditional education model… like me. What you'll bring is a variety of skills, some you never realized you had, from problem solving skills, to people skills, writing,? etc, and often things you do everyday without even realizing.
There are excellent step by step courses that will take you from the very beginning, and you don't have to spend tens of thousands and years in a classroom to do so. One of my favorite models is affiliate marketing one I'll write about often, for some very good reasons.?
What Kinds of People Work from Home
If your wondering who are these lucky people who work from anywhere, you'll be pleasantly surprised to know they are people just like you. The are your neighbors, friends and family who want to supplement their income, plan for retirement, or finally be their own boss working from anywhere.
People who want more time, freedom, meaning and more…
People are becoming the new rich, not only financial wealth but rich in time, quality of life… something's that just can't be bought.
Meet some of the the work from anywhere people:
Stay at Home Parents
Men and Women Getting Ready for Retirement
Seniors Supplementing their Pension?
Travel Lovers?
College Students Who Want to Be Entrepreneurs
Couples Who Want to Work Together
People with Disabilities
Unhirable – overqualified, under qualified
Teens Saving for Their Future
People Who've Quit Their Day Job
Expats Earning While They Live Overseas?
Students – Who Want to Pay off College Loans
Veterans Looking for New Opportunities
Freedom Lovers
People Who Need Extra Income
New Entrepreneurs?
Second Income Seekers
Career Shifters
Seasonal Employee's
Anyone Who Wants a Back Up Plan
There's never been a better tome to work from anywhere, even home happy 🙂
Where Can You Get Started Online
If you're ready to get started check out the articles in Working from Anywhere Happy (dot com, and check out the review of one of my absolute favorite ways to get started online.?
We're glad your here,?
Work From Anywhere… Happy!
PS If you're ready to get started, this is one MUST READ Review <==
www.workfromanywherehappy.com